Blown-in insulation provides superior efficiency because it can get into hard-to-reach areas in attics, walls, and basements. It also has a high R-value (thermal efficiency), and resists moisture, mold, and fire. These materials also have noise-reducing properties, which is an added bonus. Heavy equipment is needed to install blown-in installation, and we can do the job efficiently at a price that fits your budget. Here's how blown-in insulation gets installed.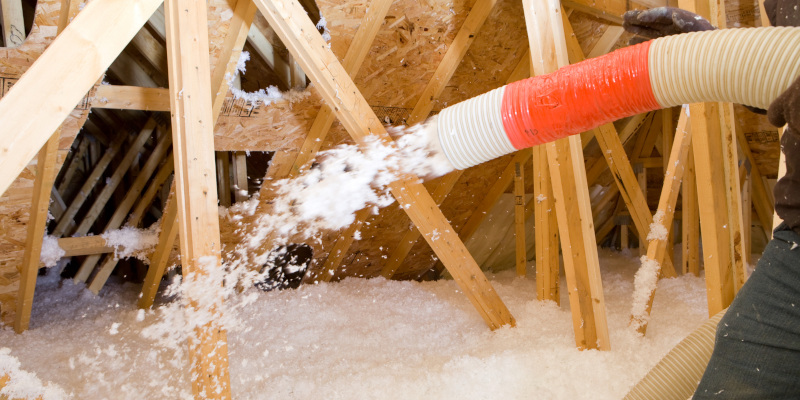 The Set Up. In most cases, blown-in insulation requires a two-person team. They will set up the system with the main unit on a floor inside or place it outside the structure. Then, one person remains with the unit and feeds in material to be sprayed. The second one operates the hose, spraying the insulation where it is needed. Work continues until the desired R-value (thermal efficiency) is reached. The air mixture must be controlled during this time to keep the hoses operating properly.
Can Old Insulation be Sprayed Over? If you have older blanket-style insulation in your attic, blown-in insulation can usually be sprayed right on top. We can examine what you have and make a recommendation.
Can Blown-in Insulation be Sprayed into Walls? Blown-in insulation is often sprayed inside walls. Your technicians can drill holes into the exterior wall cavities, or through interior plaster and drywall. The loose-fill insulation gets blown in through the holes, which are later covered with plugs.
Blown-in insulation can be the solution to your home insulation needs, and we can handle the installation process efficiently. Call us today to see if it is the right option for you.